Careers - work with Evolves | Jobs & Vacancies
We are always looking for young , passionate, driven individuals to be part of our team. If you think you are a perfect fit write to us at careers@shopevolves.com. Come be a part of the journey of #WhatsNext
Current Openings:
Customer Support Manager
We are looking for an experienced Customer Service Manager to provide excellent customer service and to promote this idea throughout the organisation. The goal is to keep the department running in an efficient and profitable manner, to increase customer satisfaction, loyalty and retention and to meet their expectations.
Responsibilities
Improve customer service experience, create engaged customers and facilitate organic growth
Take ownership of customers issues and follow problems through to resolution
Set a clear mission and deploy strategies focused towards that mission
Develop service procedures, policies and standards
Keep accurate records and document customer service actions and discussions
Analyse statistics and compile accurate reports
Recruit, mentor and develop customer service agents and nurture an environment where they can excel through encouragement and empowerment
Keep ahead of industry's developments and apply best practices to areas of improvement
Control resources and utilise assets to achieve qualitative and quantitative targets
Adhere to and manage the approved budget
Maintain an orderly workflow according to priorities
Requirements
Proven working experience as a Customer Service Manager, Retail Manager or Assistant Manager
Experience in providing customer service support
Excellent knowledge of management methods and techniques
Proficiency in English
Working knowledge of customer service software, databases and tools
Awareness of industry's latest technology trends and applications
Ability to think strategically and to lead
Strong client-facing and communication skills
Advanced troubleshooting and multi-tasking skills
Customer service orientation
Bachelor's degree in Business Administration or related field
3+ years in handling in customer service
Graphic Designer
We are looking for a Graphic Designer to create visually appealing, engaging and on-brand graphics for digital media.
Brief of the role:
The role includes entire process of defining requirements, visualizing and creating graphics including illustrations, logos, web pages, layouts and photos. You'll be the one to shape the visual aspects of websites, ads, product packaging, and other collaterals.
Your graphics should capture the attention of those who see them and communicate the right message. For this, you need to have a creative flair and a strong ability to translate requirements into design. If you can communicate well and work methodically as part of a team, we'd like to meet you.
The goal is to inspire and attract the target audience.
Responsibilities:
Study design briefs and determine requirements
Schedule projects and define budget constraints
Conceptualize visuals based on requirements
Prepare rough drafts and present ideas
Develop illustrations, logos and other designs using software or by hand
Use the appropriate colors and layouts for each graphic
Work with copywriters and brand manager and category owner or creative director to produce final design
Test graphics across various media
Amend designs after feedback
Ensure final graphics and layouts are visually appealing and on-brand
Desired Skills and Experience:
Proven graphic designing experience
A strong portfolio of design, illustrations or other graphics
Familiarity with design software and technologies (such as Illustrator, Photoshop or other raster and vector tools)
A keen eye for aesthetics and details
Excellent communication skills
Ability to work methodically and meet deadlines
Degree in Design, Fine Arts or related field is a plus
3+ years work experience in the same field.
Digital Marketing manager
If you live and breathe digital marketing, we want to talk to you. We are looking for a Digital Marketing Manager to develop, implement, track and optimize our digital marketing campaigns across all digital channels.
You should have a strong grasp of current marketing tools and strategies and be able to lead integrated digital marketing campaigns from concept to execution. You will work with the marketing team, supporting teams (such as programmers), and category managers to launch campaigns on time and on budget.
Responsibilities
Plan and execute all digital marketing, including SEO/SEM, marketing database, email, social media and display advertising campaigns (on Amazon and Flipkart)
Design, build and maintain our social media presence
Measure and report performance of all digital marketing campaigns, and assess against goals (ROI and KPIs)
Identify trends and insights, and optimize spend and performance based on the insights
Brainstorm new and creative growth strategies
Plan, execute, and measure experiments and conversion tests
Collaborate with internal teams to create landing pages and optimize user experience
Utilize strong analytical ability to evaluate end-to-end customer experience across multiple channels and customer touch points
Instrument conversion points and optimize user funnels
Collaborate with agencies and other vendor partners
Evaluate emerging technologies. Provide thought leadership and perspective for adoption where appropriate
Requirements
Proven working experience in digital marketing
Demonstrable experience leading and managing SEO/SEM, marketing database, email, social media and/or display advertising campaigns
Highly creative with experience in identifying target audiences and devising digital campaigns that engage, inform and motivate
Experience in optimizing landing pages and user funnels
Experience with A/B testing
Good understanding of A/B testing
Working knowledge of Google Analytics, Google Optimize, Search Console etc.
Working knowledge of setting up and optimizing Paid Digital Marketing Channels like Adwords and FB Ads
Strong analytical skills and data-driven thinking
Good Understanding of Content Marketing and Influencer Marketing
Up-to-date with the latest trends and best practices in online marketing and measurement
3+ years work experience in the same field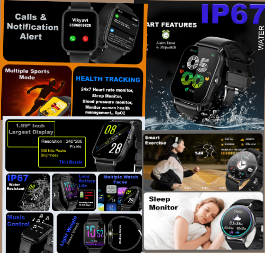 Top 10 Smart Watches of [Current Year]: A Comprehensive Review & How Vikyuvi Smart Watches Play a Leading Role
Top 10 Smart Watches of [Current Year]: A Comprehensive Review & How Vikyuvi Smart Watches Play a Leading Role

Within the fast-paced world of wearable innovation, shrewd observes have gotten to be vital companions, upgrading our every day lives with their noteworthy highlights and functionalities. As the [current year] unfurls, it's time to investigate the beat 10 keen observes that have taken the industry by storm. Among these exceptional timepieces, Vikyuvi Smart Watches stand out as trailblazers, redefining the way we interact with technology.

1. Vikyuvi Gear Pro Smart Watch: The Epitome of Elegance and Performance
Vikyuvi Gear Pro Smart Watch takes the top spot with its sleek design and cutting-edge technology. Boasting advanced health monitoring features, voice assistant integration, and stylish customization options, Vikyuvi Gear Pro Smart Watch represents the pinnacle of smart watch excellence.

2. Vikyuvi Vikfit 2 Smart Watch: A Powerhouse of Productivity and Connectivity
Vikyuvi Vikfit 2 claims the second position with its impressive battery life and seamless connectivity. With Vikyuvi's innovative touch, this smart watch seamlessly integrates with smartphones and other devices, ensuring you never miss a beat.

3. Vikyuvi Vikfit Max: Elevate Your Fitness Journey
For fitness enthusiasts, Vikyuvi Vikfit Max emerges as a frontrunner. With multi-sport modes, heart rate monitoring, and sleep analysis, this smart watch becomes your ultimate fitness companion, pushing you towards your goals.

4. Vikyuvi Vikfit Neo: Unmatched Durability and Performance
Vikyuvi Vikfit Neo showcases unrivaled durability and performance, making it a favorite among adventurers and outdoor enthusiasts. Vikyuvi's exceptional engineering ensures that this smart watch can withstand the elements and accompany you on every adventure.

5. Vikyuvi Vikfit Halo: A Timeless Blend of Fashion and Function
Incorporating Vikyuvi's signature style, the Vikyuvi Vikfit Halo takes style to new heights. With a variety of elegant watch faces and customizable straps, this smart watch becomes an extension of your personal fashion statement.

6. Vikyuvi Vikfit Ultra: The Perfect Blend of Fitness and Lifestyle
Vikyuvi Vikfit Ultra strikes a balance between fitness and lifestyle features, catering to the diverse needs of users. Vikyuvi Smart Watches add their touch, making this model a holistic companion for your daily activities.

7. Vikyuvi Vikfit Pro: Keep Moving, Stay Connected
Vikyuvi Go Active is designed for individuals on the move. Packed with smart notifications and intuitive controls, this smart watch keeps you connected while you conquer the day.

8. Vikyuvi Vikft Max: A Smart Watch for All Ages
[Brand] [Model] caters to users of all ages, offering a user-friendly interface and features that suit various lifestyles. With Vikyuvi's influence, this smart watch becomes a versatile companion for the whole family.

9. Vikyuvi Vikft Pro: Prioritize Your Well-Being
Vikyuvi Vikft Pro focuses on health and well-being, providing comprehensive health insights and personalized suggestions for better living. With Vikyuvi's expertise, this smart watch becomes your wellness guide.

10. Vikyuvi Vikft Neo: Making a Statement with Style and Substance
Vikyuvi Vikft Neo takes the final spot with its bold design and powerful features. Vikyuvi's touch ensures that this smart watch delivers on both style and substance, making it a statement piece on your wrist.

Conclusion: Vikyuvi Smart Watches - Pioneering the Future
As we conclude our comprehensive review, it's evident that Vikyuvi Smart Watches play a pivotal role in revolutionizing the smart watch industry. With a focus on innovation, style, and user-centric design, Vikyuvi sets a new standard for smart watches. The top 10 smart watches of [current year] demonstrate Vikyuvi's unwavering commitment to delivering excellence, empowering users to embrace the future of wearable technology with confidence. Whether it's fashion-forward elegance or performance-driven fitness, Vikyuvi Smart Watches have something to offer for everyone. Elevate your tech experience with Vikyuvi and witness the future of smart watches unfold on your wrist.




Mor info