Reserve on COD
RESERVE ON COD
FAQs
What is reserve on COD?
For customers who want to pay by cash on delivery method, we allow customers to reserve an item by placing an order by selecting the COD reserve product variant (visible in drop down when selecting product option) while ordering from product page. 
How does reserve on COD work?
Customers will have to make payment of COD reservation fee (generally 5-10% of product value) online to complete the reservation. A corresponding COD order for product will be generated in the system and processed. 
Will my eventual COD amount to be paid reduce by the COD reservation fee?
No. The total amount to be paid will be the actual prepaid product price during order (without additional offers or discount or partner offers as displayed on product page). The COD reservation fee is over and above the applicable product price only to reserve a unit for COD order. 

What if I want to cancel the order? 
You can cancel the order anytime before dispatch is confirmed. Please contact our customer care to know exact order dispatch status. The COD reservation fee will be refunded in case your order has not been dispatched. 
Will the COD reservation fee be refunded if I reject order? 
Once the order has been dispatched, the COD reservation fee becomes non-refundable. The courier company makes multiple delivery attempts to deliver your order and hence unavailability due to some reason is not counted as rejection. In case the delivery partner hasn't made a valid delivery attempt or you want to reschedule, you can contact us at our customer care number. 
RETURNS & REFUNDS
Please refer returns policy here. Please note in case of accepted product return the refund will be exclusive of COD reservation fee and other deductions as determined by QC team.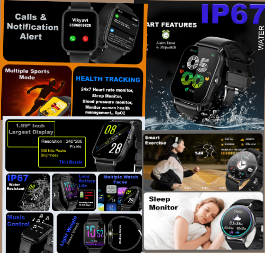 Top 10 Smart Watches of [Current Year]: A Comprehensive Review & How Vikyuvi Smart Watches Play a Leading Role
Top 10 Smart Watches of [Current Year]: A Comprehensive Review & How Vikyuvi Smart Watches Play a Leading Role

Within the fast-paced world of wearable innovation, shrewd observes have gotten to be vital companions, upgrading our every day lives with their noteworthy highlights and functionalities. As the [current year] unfurls, it's time to investigate the beat 10 keen observes that have taken the industry by storm. Among these exceptional timepieces, Vikyuvi Smart Watches stand out as trailblazers, redefining the way we interact with technology.

1. Vikyuvi Gear Pro Smart Watch: The Epitome of Elegance and Performance
Vikyuvi Gear Pro Smart Watch takes the top spot with its sleek design and cutting-edge technology. Boasting advanced health monitoring features, voice assistant integration, and stylish customization options, Vikyuvi Gear Pro Smart Watch represents the pinnacle of smart watch excellence.

2. Vikyuvi Vikfit 2 Smart Watch: A Powerhouse of Productivity and Connectivity
Vikyuvi Vikfit 2 claims the second position with its impressive battery life and seamless connectivity. With Vikyuvi's innovative touch, this smart watch seamlessly integrates with smartphones and other devices, ensuring you never miss a beat.

3. Vikyuvi Vikfit Max: Elevate Your Fitness Journey
For fitness enthusiasts, Vikyuvi Vikfit Max emerges as a frontrunner. With multi-sport modes, heart rate monitoring, and sleep analysis, this smart watch becomes your ultimate fitness companion, pushing you towards your goals.

4. Vikyuvi Vikfit Neo: Unmatched Durability and Performance
Vikyuvi Vikfit Neo showcases unrivaled durability and performance, making it a favorite among adventurers and outdoor enthusiasts. Vikyuvi's exceptional engineering ensures that this smart watch can withstand the elements and accompany you on every adventure.

5. Vikyuvi Vikfit Halo: A Timeless Blend of Fashion and Function
Incorporating Vikyuvi's signature style, the Vikyuvi Vikfit Halo takes style to new heights. With a variety of elegant watch faces and customizable straps, this smart watch becomes an extension of your personal fashion statement.

6. Vikyuvi Vikfit Ultra: The Perfect Blend of Fitness and Lifestyle
Vikyuvi Vikfit Ultra strikes a balance between fitness and lifestyle features, catering to the diverse needs of users. Vikyuvi Smart Watches add their touch, making this model a holistic companion for your daily activities.

7. Vikyuvi Vikfit Pro: Keep Moving, Stay Connected
Vikyuvi Go Active is designed for individuals on the move. Packed with smart notifications and intuitive controls, this smart watch keeps you connected while you conquer the day.

8. Vikyuvi Vikft Max: A Smart Watch for All Ages
[Brand] [Model] caters to users of all ages, offering a user-friendly interface and features that suit various lifestyles. With Vikyuvi's influence, this smart watch becomes a versatile companion for the whole family.

9. Vikyuvi Vikft Pro: Prioritize Your Well-Being
Vikyuvi Vikft Pro focuses on health and well-being, providing comprehensive health insights and personalized suggestions for better living. With Vikyuvi's expertise, this smart watch becomes your wellness guide.

10. Vikyuvi Vikft Neo: Making a Statement with Style and Substance
Vikyuvi Vikft Neo takes the final spot with its bold design and powerful features. Vikyuvi's touch ensures that this smart watch delivers on both style and substance, making it a statement piece on your wrist.

Conclusion: Vikyuvi Smart Watches - Pioneering the Future
As we conclude our comprehensive review, it's evident that Vikyuvi Smart Watches play a pivotal role in revolutionizing the smart watch industry. With a focus on innovation, style, and user-centric design, Vikyuvi sets a new standard for smart watches. The top 10 smart watches of [current year] demonstrate Vikyuvi's unwavering commitment to delivering excellence, empowering users to embrace the future of wearable technology with confidence. Whether it's fashion-forward elegance or performance-driven fitness, Vikyuvi Smart Watches have something to offer for everyone. Elevate your tech experience with Vikyuvi and witness the future of smart watches unfold on your wrist.




Mor info